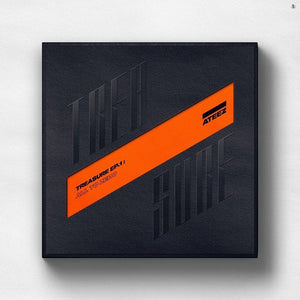 ATEEZ - TREASURE EP.1 : All To Zero (META ALBUM)
Regular price $32.00 Sale
★Release date: November, 2022
★Package: Card Holder + QR Photocard Album (Random 1 out of 2) + 3 Photocards (Random 3 out of 10) + 8 Postcards
*This is NOT a physical CD. It is a music kit that the songs and images can be downloaded from a smartphone (Android/iOS) by scanning the QR Code. 
►IMPORTANT: Orders can't be cancelled/refunded after place your order.
★Your purchase will count on HANTEO Chart and GAON Chart
____________♥ 
All items will be shipped out within 3~5 business days once the album has been released. 
USA, CANADA, UNITED KINGDOM, GERMANY, AUSTRALIA: Shipped by e-Packet (trackeable until delivery without problems, not like by Registered Airmail)
FOR OTHER COUNTRIES: We ship through Korean Post (Registered Airmail) this service is trackeable until delivery too but the countries above have problems with this service, that's why we ship through e-Packet to them. Both services have tracking number.
Delivery Time (approx):
North America: 10~25 business days 
UK, Europe, Australia: 15~35 business days 
Asia: 7~20 business days 
Mexico: 18~25 business days 
Other Countries: +40 business days

*Custom & Duties 
Please note that import duties, taxes and charges aren't included in the item price. Charges are buyer's responsibility.

ΑΒΡΑΣΑΞ